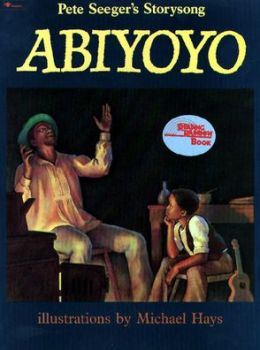 A small group found the book Abiyoyo
and brought it into the classroom. Children gravitated like magnets to this book and wanted it read to them over and over. They commented on Abiyoyo's sharp teeth and fingernails. "Here he comes!" "He's a giant!"
Our stick collection
Another day we collected sticks outside which turned into magic wands. Children went around the classroom and outside, pointing their wands (particularly at teachers) and saying "Zoop!" We would obediently disappear, just as Abiyoyo does in the book. Big grins of delight spread across the children's faces when their powerful wands made a teacher vanish (if only to hide behind a tree).
Making magic wands
Throughout the day we heard strains of the song: "
Abiyoyo, Abiyoyo, Abiyoyo, Abiyoyo…Abiyoyo, yoyoyo, yoyoyo,"
and children hid inside a tent/house in the classroom, calling, "Abiyoyo is coming!"
It was scary and exciting to hide inside the house.
Outside they would call, "Abiyoyo is coming! Run for your lives!" and we would all run away, just as we did earlier in the year when we ran from dinosaurs and monsters.
Children typically love this story because Abiyoyo is scary: long fingernails, sharp teeth, hints of blood on his face. He eats cows and sheep. But a small boy with a ukelele and his father with a magic wand make Abiyoyo disappear. It's empowering for young children, who have so little control over their lives, to hear about a child who bravely faces something scary and overcomes it. Fairy tales can be similar, though in this story Abiyoyo simply disappears, unlike Hansel and Gretel's witch who gets pushed into an oven.
One child made sure she drew Abiyoyo's long, sharp teeth.
"He's as tall as a tree!" He's a giant!"
Later we made Abiyoyo and hung him in the classroom. What other stories might the children take and make their own? How else can we help them explore scary ideas and discover ways they can overcome fears?
Making Abiyoyo disappear with a magic wand
Measuring Abiyoyo
A child bravely approaching Abiyoyo